DUBLIN PUMP REPAIR TEAM
Consult With Our Experienced Team Of Technicians For Solutions.
0831625009
GET A QUOTE
Showers
Mira SE, Triton T90SR, Mira Event, Triton AS2000, Mira Sport, Triton T80Z
0831625009
See Replacement Prices
IMMERSION REPAIRS DUBLIN
WE HAVE DUBLINS ONLINE LOWEST SET PRICE IMMERSION REPAIRS.
0831625009
GET A QUOTE
Shower and Pumps are part of the Infinity Electrical Group. At
www.showerandpumps.ie
, we also provide installations for brand new modern Eco Electric storage heating. If you have an immersion that has a fault and needs to be replaced then visit us at
immersion-heater.ie
. Then please contact
Infinity electrical group
on mobile: 083-1625009 or landline: 01-4458543.
Stuart Turner Apartment Pump Repair
2021 Special Monsoon Stuart Turner pump Replaced €820
Who Are Showerandpumps.ie
Showerandpumps.ie are part of the Infinity Electrical Group and with our set price repairs and replacement service you always know the cost. We also offer a range other services including Storage heater repair for your broken storage heating at www.storage-heater.ie, Our fully trained staff also repair immersion heaters immersion-heater.ie and can help you with any other plumbing or electrical issues. Infinity electrical group. Our technicians are fully equipped, trained in all Stuart turner repairs and RECI registered. We carry a fully stocked van with Stuart turner parts and PC's with the latest diagnostic tools to repair your faulty water booster and most of our repairs are fixed on the first visit. Call us today on 01-4458543 or 0831625009
We are part of the Infinity Electrical Group, a Dublin 14 based Professional Electrical Contractor with years of experience in water pump repairs. We have quick response emergency electricians and plumbers that are on call who are highly trained in all aspects of domestic and commercial electrical installations and Monsoon Stuart Tuner repairs…  WE ARE A 100% IRISH OWNED COMPANY.
Stuart Turner Water Pumps & Mira & Triton showers repair and
replacement service Dublin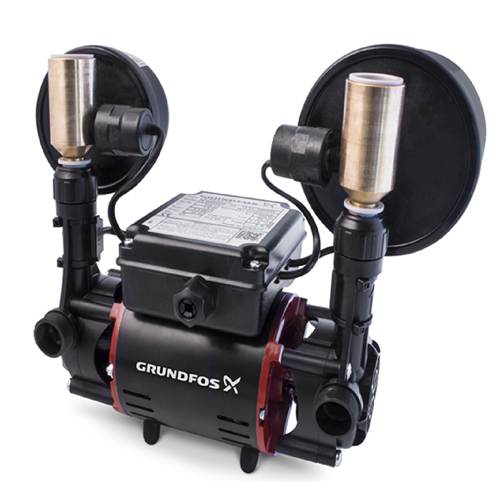 At showerandpumps.ie our team can also repair or replace your broken Grundfos Watermill Twin impeller shower booster pump negative head, which is the most common Grundfos water Booster used in Dublin. Our technicians also work on Grundfos Nile, Grundfos Niagara, Grundfos Amazon and Grundfos Danube. Grundfos have acquired the company Watermill, another popular pump manufacturer based in the UK and we can now offer the Grundfos Watermill negative head pump for €850 supplied and fitted.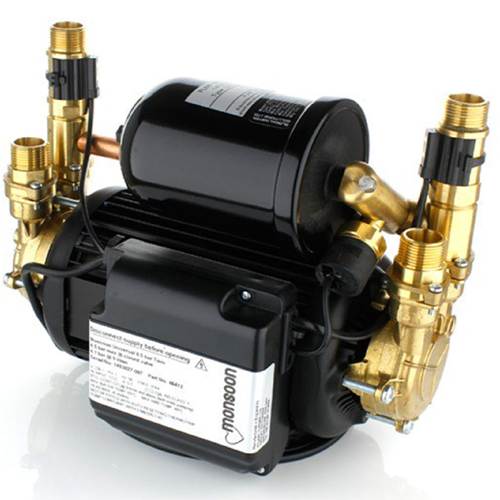 At showerandpumps.ie we repair all types of positive head pumps (most common in domestic properties) including Stuart Turner Positive Head ST66, Positive Head ST55 and Positive Head ST77. We also offer a repair and replacement service on Monsoon S 2.0, Monsoon S 3.0 and Monsoon S 1.5. We also replace and repair Monsoon Stuart Turner Showermate 1.5 & Showermate 2.0. If you need any advice on which water pump would suit you best then please call our help desk on 0831625009 or 01-4458543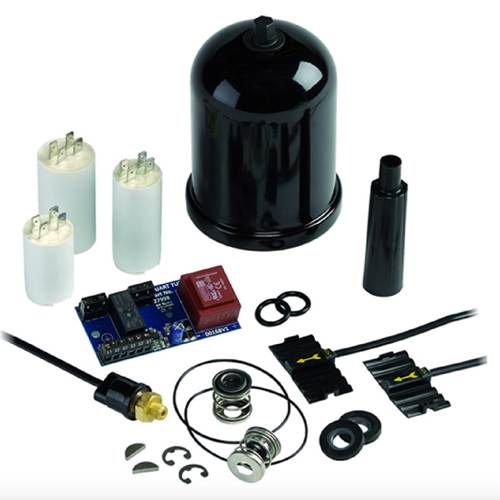 All of our repair team technicians at showerandpumps.ie have fully stocked vans with parts for the most commonly used Stuart Turner pumps in Dublin such as PCB Boards, Capacitors (for when your pump is humming) and Mechanical Seals (should you have a leak coming from your Stuart Turner Monsoon pump). We also carry a selection of Non-Return Valves for when there is no water flow. Most repairs can be done on site but some parts may need to be removed to our workshop for specialist repair.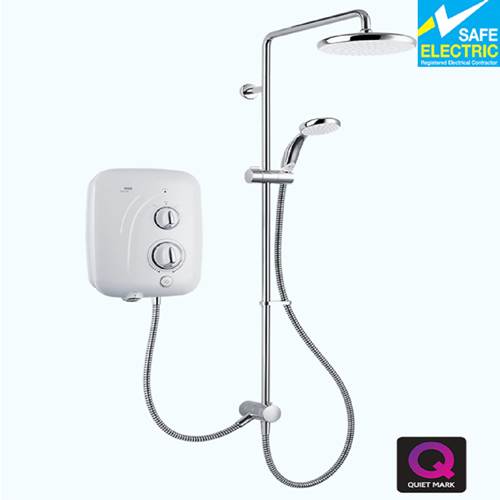 Mira Showers Dublin
There have been a few changes to Mira showers over the years namely the Mira Mira SE duel 2 which were once reliable but are becoming older now. You may need to have yours replaced with the Mira Mira SE duel ST or even the quieter version, the Mira Qt. This is a direct replacement for the Mira Mira SE duel and Mira Mira SE duel 2. We also repair, supply and install mains fed electric showers such as the Mira Sport and Mira Jump. Or if you need a replacement mixer pump only, (fed from the immersion tank) we can supply and install the Mira Event XS @16 liters per min or the Mira Vigour @14 liters per min for a set price.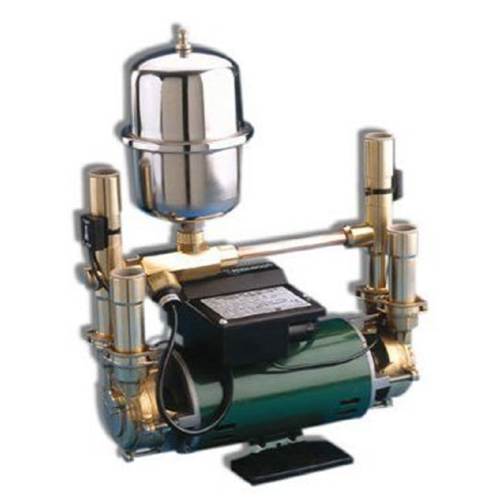 Stuart Turner Pumps
At showerandpumps.ie we repair all types of pumps including the Stuart Turner N 2.0 bar negative head, M550N 3.0 bar negative head, N 1.5 bar negative head and N 3.0 bar negative head pumps. We also supply and install the new Monsoon pumps U 2.0 bar twin negative head, U 1.5 bar twin negative head and the U 3.0 bar twin negative head Pumps. These types of booster pumps are most commonly found in Dublin apartments.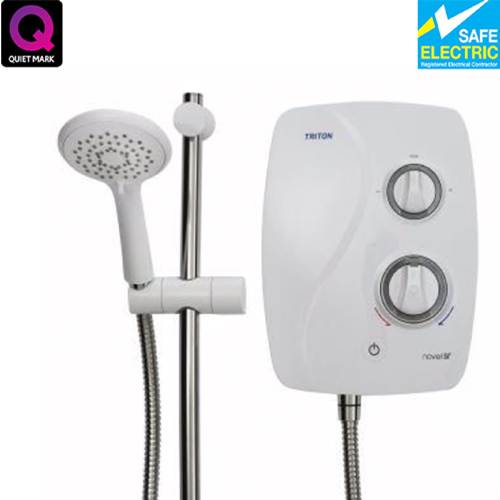 Triton Showers Dublin
Triton showers have been very popular in Ireland for years. The most common shower in Irish households is the Triton T90Z the new silent shower that has even improved with the latest Triton model available on the market, the Triton T90SR. This Triton T90SR shower is electric heated and takes a pumped shower feed from the cold storage tank. Our team also install and replace other types of broken Triton models such as the AS2000Xs and the mains fed Triton T80z. Our vans always have a spare electric Triton shower stocked but if you are in any doubt please call our office on 01-4458543 for advice. We install the new silent Triton T90SR for only €350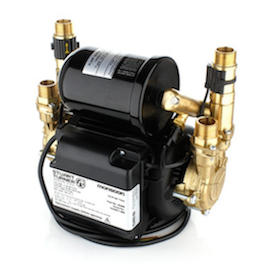 Stuart Turner, Grundfos, Salamander Shower Pump Repair & Replacement Service Dublin
All of our team at showerandpumps.ie can repair or replace your broken Grundfos, Watermill, Salamander, Stuart Turner Monsoon shower booster pump at your home, on site, with 90% of the problems fixed there and then for a set price. There are several different types of pumps such as a four pipes (Twin pumps) or two pipes (Single pumps). If you have a vessel on the top of your pump then it's a negative head pump but if the vessel is on the side of the pump, it is known as a Universal pump which are suitable for use in both houses or apartments. We also stock and install Showermate Eco plastic body pumps which are used for a thermostat-controlled shower only. When calling our office on 01-4458543 you should take note of the model number on the top of your pump and inform our call center.
Reason your apartment water pump will fail
Immersion heater fails & Water over 65 degrees C.
When it has been Plumbed into the water mains
Trying to silence it by boxing or insulating it – (overheats)
When it doesn't have its own water supply from cylinder
Power surges – kills the electrics
repair & Replacement Service Dublin
2021 special Triton T90SR silent shower replaced €350
Our team at showersandpumps.ie are Dublin's number 1 electric shower installer of the newest Triton T90SR, this is Trition's most silent shower and the most common used shower in Ireland. so if your old electric shower is broken call our office today on 01-4458543 to get the new electric silent shower replaced today for only €350. There are three main types of Mind T Triton showers in Dublin that showerandpumps.ie install, the Triton AS2000, Mira Event and Vigour which are designed for households with low water pressure and feed off the immersion. There are also electric showers such as the Triton T90z and the Mira QT/ST which are heated and pumped showers, fed off the cold storage tank in the attic and range from 8.5kw up to 10.5kw. It is possible to have 2 or 3 of these types of showers in one house with a priory board, but if you have low water pressure or nonexistent pressure, you will need the Triton T900PI. The Triton T80z and Mira Sport are for mains fed only and have their own heating element, these types of showers are probably the least common in Ireland.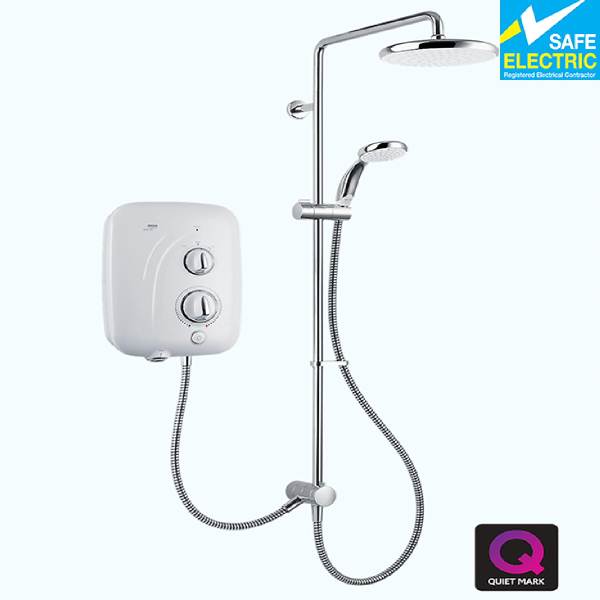 Some common problems and tips with Triton electric showers
RCBO tripping is common and means you have a serious fault
No water coming out of the shower PRD is gone and needs replacing or blocked pipe/filter
The minimum water pressure and flow rate required is 8-11 liters depending on the kw of the shower & 1-1.5 bar of pressure
The name plate with all of the information regarding the shower is located on the bottom of the shower unit